What To Ask a Roofing Contractor Before You Hire Them 
As adults, when we're not working we spend most of our time at home. So it's only logical to think that our home deserves the best people working on it, especially our roofs. So before you sign the dotted line with a roofing contractor you found online or at their place of business, make sure you ask all the correct questions. When you ask these questions you get a general idea of what you're in for with them, and whether the service your roof is getting is of quality or not. Just to give you an idea, here are some questions to ask your contractor right before you hire them to make sure you are getting the best team of people for the job.
How long have you been in business?
Experience is one of the main qualities you want to be looking for when hiring a roofing contractor. This reflects on the quality of their work, professionalism, and overall care they will give to your roof when working on it. Not only that, their years of experience show that they have been able to keep their business afloat and most likely have many satisfied customers, a quick Google search for past customers reviews could be very helpful. 
You always want to ask this question to make sure that everything that is being done to your property is done with the proper paperwork and documentation so you don't get into legal trouble later on. In the case of licensing for roofers, it may vary depending on the state. For example, they may be licensed in most states, oh, but some states may require additional training to be licensed. Make sure to only work with roofers who are licensed in your state just in case things go sideways you're prepared and have the resources to deal with it.
Are you going to remove my old roof? 
If you had your roof for quite some time, make sure to ask the contractor if they're planning to remove your old roof, and be sure they answer yes. Sometimes they will just do some shingle replacements to the more damaged ones whilst ignoring the other ones that are still intact.  This can lead to problems later on as the older shingles start to degrade and then you'll need to rehire a roofing contractor to fix that problem which they overlooked initially. Having your entire roof replaced will save you tons of money in the long run.
Do you provide your employees with workers comp insurance?
As of recently, it is now legally required for roofing contractors to have their workers insured, since at one point in time when there were three workers or less on a project it was not required to have them insured. You want to make sure that your roofing contractor takes care of their employees, insurance is an expensive thing but it is well worth the investment to keep employees safe in case of any accidents that may occur during the project. This will also protect you from paying thousands of dollars in medical bills if one of the employees is uninsured and suffers an injury on the job, in this sense you are personally held responsible for their injury instead of the company.
Do you provide general liability insurance?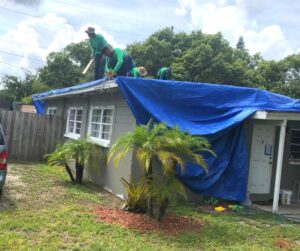 Now, since workers comp ensures the well-being of the employees, general liability insurance covers your property (your home). In any case, something goes wrong. As an example, a common occurrence in Central Florida is for the weather to change while a roof install is in process. If the roofing contractor you hired is not prepared to tarp your house right away, water could damage the interior of your home, including walls and furniture. With this type of insurance,  your home or business is completely protected and you will not have to pay for repairs. You always want to ask a roofing contractor to show you the certificate to make sure that you are covered by general liability insurance. In case you want to go the extra mile to make sure you are covered, you could even contact the insurance company.
In the case of changing weather conditions, what will you do to protect your work?
The weather is always going to be a constant variable when it comes to working on the roof, so you want to make sure that your roofing contractor will do as much as they can to make sure that the job is protected.  They can do so by laying down some tarps or plastic covers to ensure that water won't go into the roof and cause molding or rotting of the wood. This will also protect your home's or business' interior since there will be no water damage to the interior of your home from any rainstorms that may occur during the duration of the project. 
Will there be someone on site I can communicate with?
You always want to establish a good line of communication between you and the roofing contractor so you can have constant updates on the progress of the roof of your home or business. This way the contractor can inform you of any possible delays or even speed up the process to finish the job on an earlier date. They may even update you on the type of material they will be using or if there needs to be a change to the original agreed-upon plan and discuss details of how to proceed with certain events.
How long is the warranty on my new roof?
In the case of a new roof, the answer you want to hear is at least a 25-year warranty. So your roof can be well protected in the case of damage due to extreme weather conditions or even damaged shingles during the installation process, you are covered and your contractor will respond by taking care of this kind of issue with your roof.
Will you provide a written estimate?
You want to make sure that your contractor gives you a written estimate of the project's total value. This, in the long run, can come in handy when it comes to the moment of paying for the project since the written estimate gives you an accurate price range of the total worth. This also prevents the contractor from overcharging what was originally agreed upon. This written estimate will be very useful so always ask for it.
Now the choice is up to you. Be sure to be thorough with your questions and check on your prospective contractor candidates. Try to get a face-to-face meeting in their shop to get a sense of what they are like. Remember when it comes to your home, always prefer quality over quantity.