Commercial Roofing Done Right
Commercial roofing must be done correctly the first time around. It is for that reason that many businesses are hesitant when it comes down to hiring a commercial roofing contractor. Understandably so, a commercial roof repair or replacement can be very costly and it can create a disruption of the daily business operations. The biggest fear is having a faulty roof installation that could lead to roof failure during a major storm, causing internal water intrusion and escalating a small roofing job into a hot mess of a situation.
How to find a true commercial roofing expert
Finding a commercial roofing company is not that difficult. A simple Google search will give you plenty of options around your area. Many roofers claim to be commercial roofing experts, but how can you be sure they'll take care of your property roof without any extra cost or headaches?
Luckily there are some signs to look for when hiring a roofing contractor. The first question you should ask the roofing company is if they're licensed and insured, this is very important because like in any other construction job, there are a lot of risks involved and you want to make sure you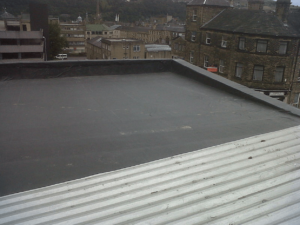 and your property will be protected in case of an emergency. The presentation should be another very important sign. Uniforms, clean trucks, and means of communication such as follow-up emails and phone calls are also very clear signs that the commercial roofing service they offer is truly professional and trustworthy. One last sign to look for is a solid track record, commercial roofing experience is a very important factor to hire the right roofing contractor.
A simple visit to their website should help you see pictures or videos of previous jobs completed by the roofer you are considering hiring. If they don't have credentials accessible to you, it is always a good idea to simply ask the question, you don't want to risk hiring a roofing contractor with little or no experience and risk having issues with the roof installation.
What about the materials?
Another key factor in choosing the right materials. As the customer, it is not your job to know all things about roofing, but it is very important to have a professional commercial roofing company giving you options and explaining the benefits of upgrading your roof system and maybe even saving you money in the process. Every year manufacturers come out with new products that are more water-resistant, can sustain higher winds, and can withstand a heavy hail storm. The job of the roofer is to make sure your roof will be ready to combat the weather and keep your building protected for many years to come, so make sure you choose the right company for the job.
What makes us different?
At Sky Light Roofing we have taken the time to train our commercial roofing team very carefully. Our estimators are professionals with a passion for serving other businesses with care and honesty. We know that missing an area of the roof could lead to potential issues after the roof repair gets done.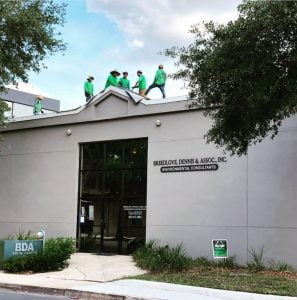 Going back to the business owner with a second round of repairs is something that we avoid from the very beginning.  We consider our team of commercial roofing experts to be first-class roofers in the Orlando area. Our installers know that a business must operate as we conduct a roof repair or replacement.
We keep the area clear of debris, our tools and ladders are stored neatly after each workday, if necessary we utilize caution tape to keep certain risk areas out of reach for customers' safety, and most importantly our team is fully committed to delivering your commercial roof on time as established from the get-go.
For over 15 years Sky Light Roofing has been a commercial roofing contractor covering Orlando and most cities in Central Florida. For commercial and industrial properties, we deliver high-quality and durable roofing.
We provide your commercial properties with maintenance-free full re-roof solutions. To suit your unique needs we'll help you build a custom-fit roof. We provide quality customer support and aspire to develop a long-term relationship with our clients, we have both experience and expertise.
Roof With Us™