4 Steps To Find a Good Roofer in Orlando Fl.
If you need work done to your roof, it is important to hire a professional, responsible, and most of all reliable roofing contractor. But unfortunately, it can be quite difficult to know how to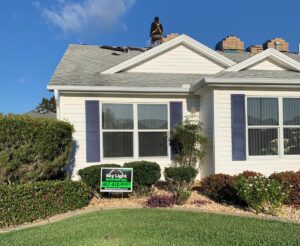 carefully select a trustworthy contractor that will benefit both you and your roof. So how do you find a good roofer in Orlando? Thankfully, there are some signs to watch out for when it comes down to being able to recognize a good contractor when you are in need of a roof repair, or roof replacement.
Insurance is important.
If a contractor simply doesn't care enough or just can't afford to insure those working for him, he most likely will not be able in any way to provide you with the quality work on your roof that you deserve. Also, it's pretty important to know that if something were to go wrong, part of the cost of the roof will be covered. Fortunately for you, Sky Light Roofing has the necessary insurance and experience to deliver professional results, workmanship, and quality service.
Word of mouth is powerful.
Ask any of your friends, neighbors, or coworkers if they have had a roofing contractor carry out work for them in the past, and make sure to inquire what their impression of him was. This can also help ensure that you will get a local Orlando roofing contractor, meaning one who will still be around years from now if you were ever to need his or her services once again. Learn what our clients have to say about our expert services and get in touch with us today, a free roof inspection can save you not only money but a lot of headaches, especially during a storm.
You get what you pay for.
Saving money is a pretty satisfying experience for everyone, but it might end up costing more in the long run. A good roofer in Orlando should be able to give you a competitive quote, but don't be afraid to go with a more expensive bid if you think that your first choice contractor will do a much better job. Getting a hard job done cheaply can sometimes lead to costly repairs down the road, which is never fun. Our services are not cheap by any means, but we deliver excellent residential roofing and professional commercial roofing services. The best part is that we offer affordable, top-quality materials, and excellent results.
Get it in writing.
Make sure that when you discuss the details of the job, your contractor gives them to you in writing. It's your roof and you are in complete control of the labor, so you and the contractor should agree to all of the details and jot them down. We can ignore the current events, dealing with a global pandemic has definitely been a challenge for a lot of roofers in the field. We have quickly adapted and now we offer email estimates, and satellite-free inspections in order to respect all of the social distancing guidance recommended by the authorities.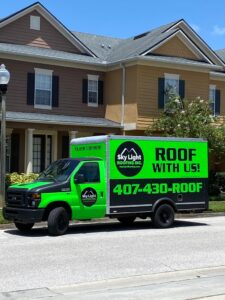 How to find a good roofer in Orlando.
Here at Sky Light Roofing, we are known for taking immense care in our reputation for quality work that is sure to keep you and your family safe and sound under a sturdy roof during a heavy storm or hurricane. If you're looking for honest and dependable Commercial Roofing services in Orlando give us a call today at 407-430-7663 and gain peace of mind for your business. If you need a good roofer in Orlando for Residential Roofing keep in mind that's our bread and butter. We can complete most jobs in just one day. Our roofing experts are available throughout most cities within central Florida. We are committed to making your satisfaction our top priority. Whether you need a small repair or a complete new roof We got you covered!